Despite being such a gentle and peaceful animal, orangutans, rather paradoxically, find themselves critically Endangered across their range. The reasons for this are plentiful, but the huge proliferation of palm oil plantations, and the creation of agricultural mono-cultures where diverse forests once stood is chief among them. Conservationists and NGOs try to limit the devastating affects of deforestation and fragmentation, species displacement, and killing in various ways, one of which is the rehabilitation and reintroduction of orphaned orangutans. While this is an exceptionally difficult and expensive process, especially with such an intelligent and easily habituated species like the orangutan, there are many inspiring individuals and organisations committed to improving the welfare of the worst affected animals. One such group is OVAID, with whom we had the pleasure of working with closely. They build veterinary skill and capacity in both Indonesia and Malaysia so that orangutan rehabilitation centres can give their orphaned animals the very best chance of surviving after release. This collection supports their wonderful work.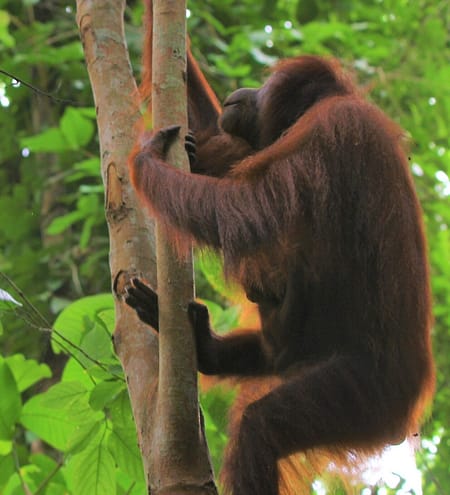 How Wildlife Watches Support OVAID
A compassionate approach to conservation was one that made sense to me, and OVAID share this philosophy, so it is with pleasure that Evolve supports their work with 15% of profits from our Wildlife Watches collection. Check them out in the link below.
We hope to inspire you and others to remain engaged with their work long into the future, so please consider giving them a follow, like, thumbs up and all that good stuff! Evolve is still in its infancy, but once we have accumulated enough funds, and after implementation of our support by OVAID, we'll let you know via our Facebook/Instagram page how our support was used, so keep checking back for updates.
OVAID are a small charity formed by husband and wife team, Nigel & Sara in 2014. I worked closely with them in Indonesia and Malaysia and I was hugely impressed with their dedication and no compromise attitude towards animal welfare. Through OVAID they provide in-house training, scholarships, veterinary equipment and medicines to orangutan rescue centres and projects. Their focus on improving veterinary expertise and processes not only improves the individual welfare of ex-captive animals, but when applied across the board, may also help the wider conservation community to sustain recently reintroduced populations.